What We Do
Adopt a Classroom – Teacher – Members of Kiwanis have adopted a certain classroom. We help the teacher with school supplies, volunteering our time and planning parties when possible.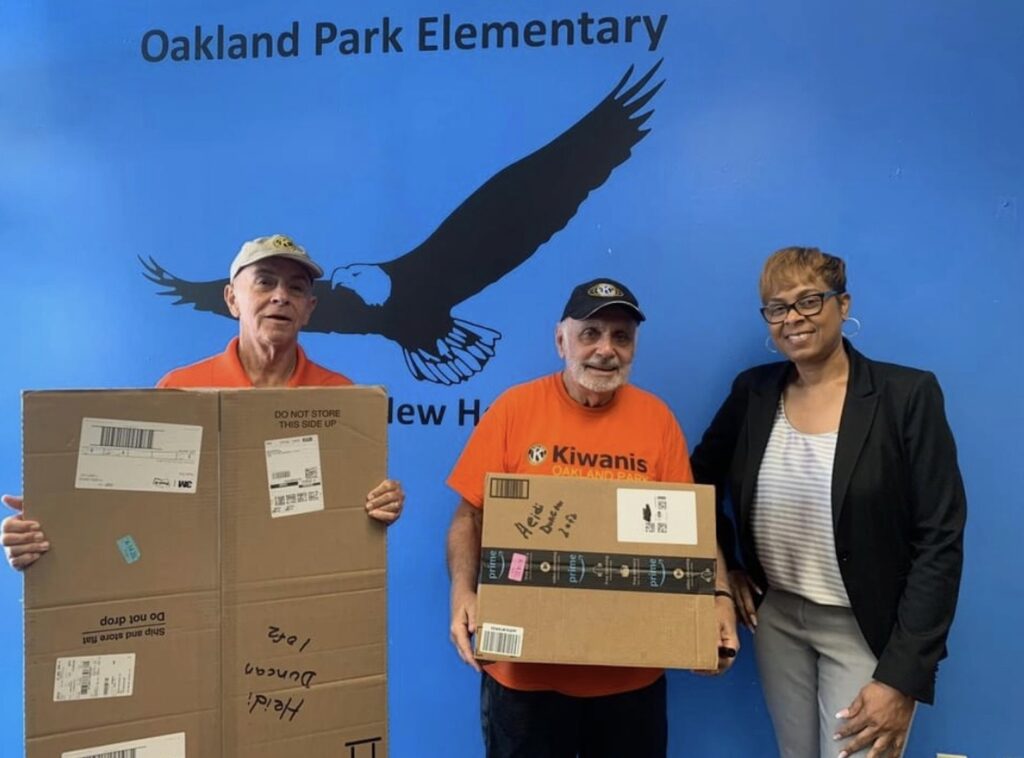 President Paul Adams and Adopt a Classroom Chair, Rick Melillo made an Adopt A Teacher delivery today for Heidi Duncan's kindergarten class.
Adopt a Street and Waterway –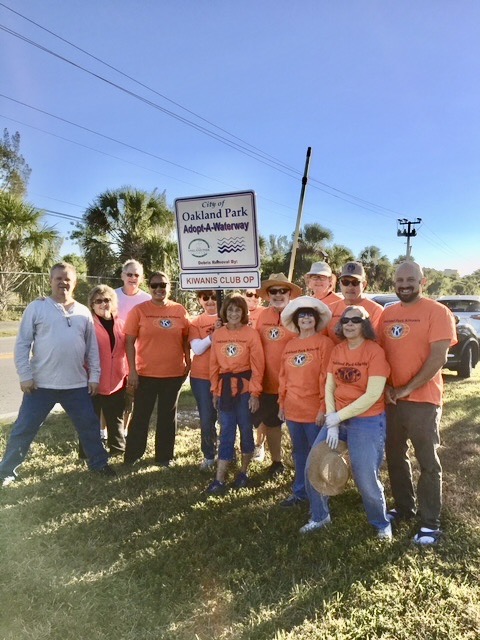 We have adopted NW 39 St and the C-13 Canal, both along the Greenway in Oakland Park. We have cleanups scheduled throughout the year.
American Legion Boy State – Oakland Park Kiwanis helps with the finances to send one underprivileged boy to camp. This is sponsored by the American Legion Post 222. Individuals are picked by the American Legion.
Apples for School Personel – We deliver an apple for each member of the staff at all of our elementary schools at the end of the school year.
Bicycle Rodeo w/City of OP – BSO, the City of Oakland Park and Oakland Park Kiwanis provide a bicycle rodeo to children of the community. Children go through a bicycle skills course, receive a bicycle helmet, and other bicycle safety supplies.
Blessed Sacrament Food Pantry – We provide nonperishable goods to help this organization feed the homeless in our community.
Boys and Girls Club of America – We support financially the Boys and Girls Club of America.
Broward Homeless Shelter – Oakland Park Kiwanis has our fall and spring pizza party for the children staying at the Broward Partnership for the Homeless in Fort Lauderdale, serving around 20 children ranging from infants to young teens.
Children's Miracle Network – We support the Children's Miracle Network.
Christmas in July – Christmas In July helps prepare homeless children for the upcoming school year. Kiwanis Division 23 and 24 in conjunction with the Broward County Board of Commissioners work hard to bring joy to these children's hearts, while preparing them for the upcoming school year by providing 1500 children with underwear, shoes, socks and other clothing items.
Christmas Holiday Baskets – Oakland Park Kiwanis provides complete Christmas dinners for over 70 families in the community.
Christmas Wrapping Stations for Elementary students – Kiwanis members wrap presents purchased by students for their family and friends at Oakland Park and Lloyd Estates Elementary schools.
Dictionary Distribution – Our club purchases dictionaries and distributes them to all 3rd graders in our 4 elementary schools.
Every Child a Swimmer – we make a donation to this program.
Food Backpack program – Budgeted money, food and cash donations provide approximately 60 families with backpacks of non-perishable food items each week.
Hygiene Bags for the Homeless – We provide bags of supplies, i.e. soaps, socks, water, etc., for use by the homeless.
Key Club of Cardinal Gibbons – We support the Key Club at Cardinal Gibbons High School.
Key Club of NE High School – We support the Key Club at Northeast High School.
Light of the World Clinic Christmas Toy Drive and Party Kiwanians and Key Club Members and other organizations in the community participate by donating toys and throwing a party for members of Light of the World Clinic.
Light of the World Health Clinic – The Light of the World Health Clinic serves the economically challenged families in the community. At the annual health care fair members participated and helped the clinic employees in a variety of capacities. We also collect office supplies such as copy paper (letter and legal), paper towels, toilet paper, non-latex non-powder gloves (med and large), 5×7 yellow pads and scotch tape.
Miles for Smiles Walk – The Club participates in this 4.7 mile walk around the Pompano Air Field in Support of the Broward Children's Center.
Northeast Little League Sponsorship – We sponsor 2 little league teams in Oakland Park.
Oakland Park Tennis Tournament – FUNDRAISER – The City of Oakland Park and Kiwanis Club sponsor an Annual Tennis Tournament as a fundraiser. The 2 day event brings over 100 participants.
Pancake Breakfast/Bake Sale – FUNDRAISER – Kiwanis members and NE Key Club members sponsor a pancake breakfast and bake sale for members of the community.
Reading through the Summer – We provide a book for each student in kindergarten to read over the summer.
Recycled bags for the homeless – We collect plastic grocery bags to provide the food banks with a bag to dispense food.
Ronnie's Stars – Our Signature Project, Ronnie's Stars, is named in honor of Ronnie Goldstein, the late wife of member Michael Goldstein.  Ronnie crocheted beautiful blankets to comfort the children at the pediatric oncology unit at Broward General Hospital.  Her legacy has expanded to include Joe DiMaggio Children's Hospital, Broward Partnership for the Homeless, Children's Diagnostic & Treatment Center, Central Broward Pregnancy Center, Operation Gratitude and other organizations that comfort the ill, homeless, elderly, and military with blankets, cheerful pillowcases, infant hats, therapy dolls, Beads of Courage bags, scarves for servicemen and women and other handmade items.  Crafters are always welcomed!
School Supplies – Through member donations we are able to provide backpacks and school supplies to our 4 local elementary schools.
Souper Bowl of Caring – Using the energy of the Super Bowl, we collect cans of soup to care for people in our local community who are hungry and in need.
Terrific Kids at four Elementary Schools – This Kiwanis student recognition program promotes character development, positive self-esteem, and perseverance. Students work with their classroom teacher and establish goals to improve behavior, peer relationships, attendance, or schoolwork. Students then work toward achieving the goal during a specific time period. Award certificates and a bag of award items, including a letter to the parent, are presented four times a year coinciding with grading periods. At the final award ceremony $25 Barnes & Noble gift certificates are presented to the "Terrific Kid of the Year" from each Fifth grade class.
Thanksgiving Baskets – Oakland Park Kiwanis provides and delivers complete Thanksgiving dinners for families in the community.
Treemont Assisted Living Facility – The 2nd Sunday of each month, from 1pm – 2pm, Kiwanians bring sugar free treats and drinks to Tremont to have a party. The address of Treemont is 3881 NE 3rd Ave., Oakland Park.
Uniforms for Elementary students – The Club provides 30 elementary students with 3 sets of school uniforms for the start of each new school year.
Yard Sale – FUNDRAISER – Twice each year, spring and fall, we have a yard sale.
Youth Day Participants – Oakland Park Kiwanis participates in the Youth Day Parade.